ANTICO CONVENTO DELL'INCONTRO
A quiet respite so close to the city
I love meeting places. I also love meeting up with people in interesting places.  I like it in an "old school" way as well, where you don't message each other 15 times after the meeting is set and 10 more times before the meeting is about to happen.
There is a wonderful place not at all far from Florence, just about 4 km out of the city to the west named L'Antico Convento dell'Incontro. In english this translates to the "meeting place". I'm always on the lookout for places close to Florence with interesting views to the city. So I headed out there for a look.  What a view!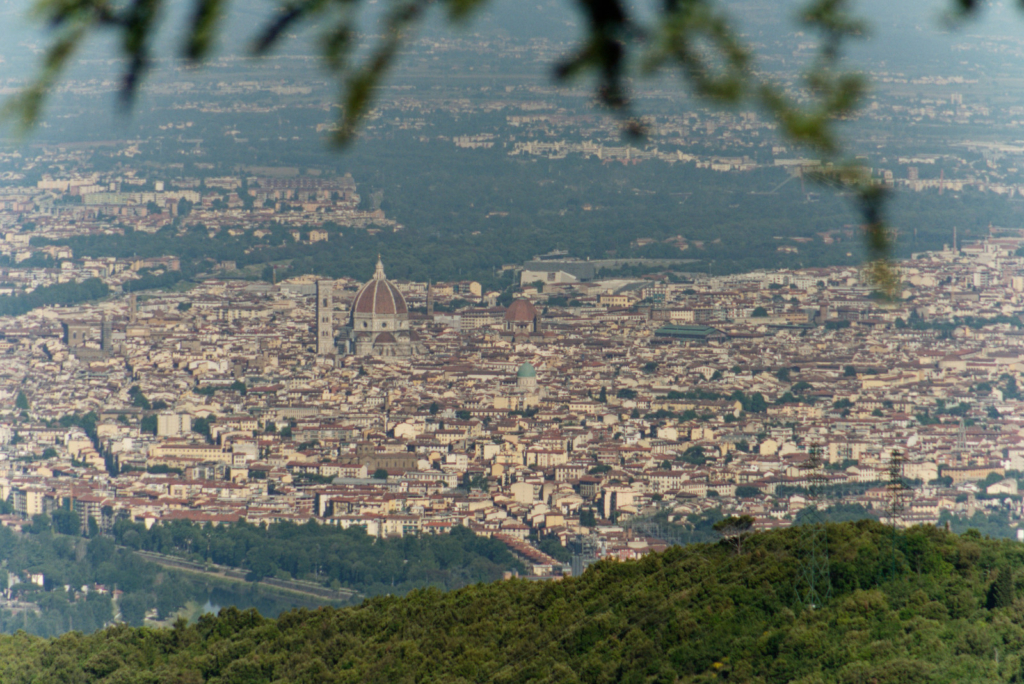 My first attempt to visit here was a strange situation. The bike wasn't running well after I had made an adjustment, stopped to correct it and then had to stop once again to make a third correction. One of those slightly frustrating riding days. I got to within 150 meters of the place and as a couple of horses strode by, I decided I didn't want to spook them with the bike so i decided to turn back. 
About a week later I was in touch with a nice fellow named Leonardo who mentioned I could drop by, see the convent and make some photographs. So I ventured out early one morning to meet at dell'Incontro, the meeting place. 
Its a short and sweet journey up a series of switchbacks to the convent which rests up at about 570 meters. The air is fresh and a bit cooler there and the whole location is surrounded by about six hectares of forrest. A perfect place for walks and thinking and connection to nature.
As I wandered through the open church, I could feel a lot of spirit here, although no monastics have occupied the premises since the 1980's. I met a lovely lady who was kind enough to explain that it was being cared for by a lay organization and the property was used for everything from concerts to prayer retreats. This helped make sense why the spirit of the place is still so alive. Outside the church, you are met by a large wooden cross fashioned out of trees in the nearby forest. It's not ostentatious, or overdone but from a size perspective it might be the proportions of the cross our Lord died upon that day in Galgotha. That gives you something to contemplate. 
The church has a small chapel dedicated to St. Leonardo, where a copy of his funeral mask is kept. The place is said to have had miracles occur, where lame were again able to walk away from this place, leaving their crutches behind. Being a Franciscan Monastery, much of the imagery surrounded Francis' life and St. Leonard (who had performed the miracles here).
I asked for Leonardo, and he led me in his direction near the cloister. 
This place has an intimacy all its own. And is filled with little wonderful spaces which are unfolded and revealed as you walk through. The humility of the scale of everything is evident, nothing grand or ostentatious here, more like a country home or cottage atmosphere where every room is the right size for the task. 
Meeting Leonardo, we quickly feel into the rhythm that old friends who have not seen each other for a while fall in to. That was the friendliness of a first visit that is rare and beautiful. He walked me around as i snapped photographs, the church, the small sacristy under the bell tower, the cells the monks once lived in, cloister, dining halls, guest rooms and a very impressive library. 
It dawned on me that having those books around was so comforting. That you go to these places in search of inner wisdom, but they made sure the formal libraries housed learning tools in the form of books! 
The finest knowledge technology ever invented. 
Its also dawned on me that among all the St. Leonardo iconography, my wonderful host was also named Leonardo. I asked, and his mother was writing a thesis on St. Leonardo while she was pregnant with him, so he got the name, and now represents with place with friendly hospitality.
As i left after that first visit Leonardo literally handed me the keys to the entire monastery and asked me to return whenever i liked, just to let him know when I would be there. Amazing! 
I also discovered the association which represents the convent now, runs missionary work in many countries and need some promotional video materials to help with fundraising. I obliged and had a wonderful time creating this overview of the property which i hope you can enjoy as well.